Gaida
Gaida, a multipurpose WordPress theme that allows user to really experience the content at a stunning size.
You can switch between Masonry and EqualHeight easily. Equal height get the height of the tallest grid, and that height will be set to the other grid, while Masonry measures all of the items you are serving and rearranges them in the best way.
Full Details | Price: 45$
---
Jad
Jad is a Creative Responsive WordPress theme. It's fresh & modern look with a bunch of features will make your website a standout. It's ready to help you show off your work the way you want to with stunning precision. Also it has a big variety of options for customization so Jad can be suitable for any purposes. Also our demo XML file is included to make the work much more easier!


Full Details | Price: 45$
---
Porch
Porch is a wordpress theme for Portfolio or Agency It comes with 4 differents minimal homepage layouts,Gallery Drag and Drop,Parallax background mouse movement,Carousel,Animated skill bar,Theme options,Much image hover effects,Highlight color,Shortcodes,Widgets,Totop plugins,Pretty Photo,Testimonials animate,google fonts and Much more … Easy to customize,you can customize via theme options.
Full Details | Price: 40$
---
Vision
Vision is a fully responsive portfolio theme, perfect for creative people and agencies.

Full Details | Price: 35$
---
Pixel
Pixel is a agency and corporate theme. Its simple and clean WordPress HTML5 & CSS3 Theme. Its a full responsive theme built with Bootstrap.
Full Details | Price: 45$
---
CNEWS
CNEWS is a feature-rich WordPress magazine theme. Great for magazine , review, news and blog sites, with integrated reviews, video, slideshows, galleries and ADS system in each post. CNEWS theme is highly configurable, you can completely configure the homepage and posts using the very easy and powerful theme options. Using 18 custom widgets you can create your homepage very quickly and you can get it just as you want it. CNEWS is responsive, so that it fits and looks great on different size of devices – desktop, mobile phones and tablets.
Full Details | Price: 40$
---
SimpleStart
SimpleStart – is clean and modern minimal WordPress Theme created to be easy to modify and customize. With a responsive design it is easily usable with any device, without removing any content! Can be used by portfolio, blogs and more.
Full Details | Price: 35$
---
Timeline
TWT is a revolutionary WordPress theme, intended to showcase your work, blog or interests in an unique modern way, using the trendy timeline look. It resembles a lot of Facebook timeline, though it offers many more features like 5 scroll effects, ajax infinity scroll, header slider, background image slide show, etc.
This is a cool theme to use if you are a talented freelancer, who wants to show his portfolio in a creative way or a musician who wants to make his album collection visible in a FB tab. It can also be used for publishing blog posts in a chronological order, to stream various content from a news site or just to publish your biography in FB.
Full Details | Price: 45$
---
BEAT
Beat is a powerful, responsive wordpress theme that comes in full screen, boxed and wide layouts. Packed with features this theme is ideal for graphic designers, photographers, media agencies, artists, directors, video editors and web design companies to impress their potential clients by presenting an impressive portfolio.
Full Details | Price: 39$
---
Copywriter
Roxy Bird is now a WordPress theme! Roxy Bird was built with copywriters in mind. It is modern and clean with a focus on typographical content.
Full Details | Price: 39$
---
Gridlr
A crafty and elegant theme powered by an advanced theme framework and grid system. With virtually unlimited layout options and styles, ideal for showcasing your portfolio of works or other multimedia elements like images, photo galleries, videos and podcasts.
Full Details | Price: 39$
---
Mokoo
The Mokoo theme provides you the best online premium responsive wordpress theme with lots of features. Mokoo is loaded with options, and has powerful customization options.
Yeah! It's as simple as and as powerfull as anything to compare.
Full Details | Price: 39$
---
StoneCafe
StoneCafe is a premium wordpress themes for restaurants websites. If you're looking for a clean and robust website that can showcase your new restaurant or business then look no further. StoneCafe is a theme that you should look into if you're opening a new local shop.
Full Details | Price: 39$
---
Vixen
Fully mobile friendly and responsive. Not just in theory, actually tested, tweaked, and perfected on iOS and Android with a custom mobile layout built just for them.
Full Details | Price: 39$
---
Horizon
Horizon is a bold, modern and responsive magazine WordPress theme with 8 built-in color styles. Will work great with any type of content, especially automotive, sports, technology, video games, etc.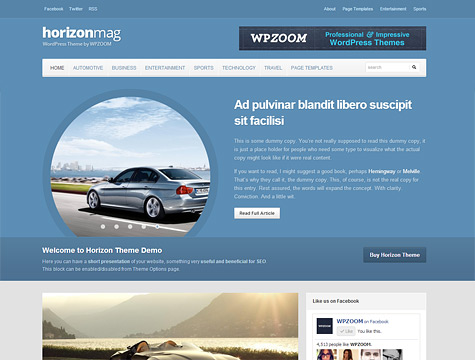 Full Details | Price: 69$ + 1 FREE Bonus Theme
---
Erudito
Erudito is a solid, modern and responsive WordPress theme with 12 color styles. Great for education websites, such as universities, schools, colleges, but will also fit just any business-oriented website.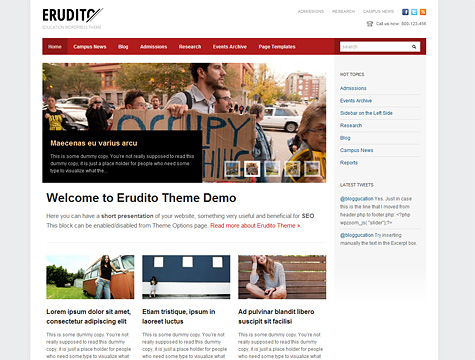 Full Details | Price: 69$ + 1 FREE Bonus Theme
---
Yamidoo Magazine 2.0
This magazine-style theme is a knockout for any type of informative website even a complex News Portal. With its simple layout, this theme can be easily styled to create the perfect look for your blog.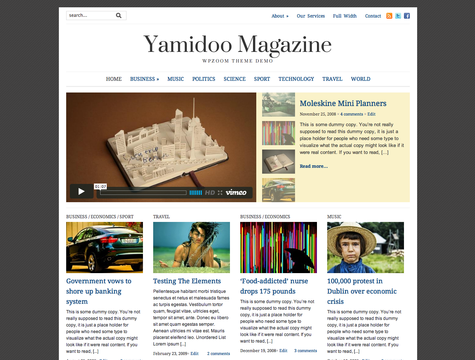 Full Details | Price: 69$ + 1 FREE Bonus Theme
---
Gentle
Gentle is a advanced portfolio Theme. Easy to setup, enhanced with Massive Panel and custom shortcode wizard which makes adding shortcodes extremely easy. Responsive & Retina Ready – Gentle is fully responsive. It looks good on any resolutions and across all devices. It's retina display ready. We manage to give user the same experience everywhere.
Full Details | Price: 40$
---
Protuts
A beautiful WordPress Theme designed for featured a lot of news and editorial content. A very attractive homepage to catch attention ensuring that reading is pleasant.
Available in English and in French – same for the PDF documentation.
Easy to use option panel.
Full Details | Price: 35$
---
Unicorn
Sick and tired of faceless WordPress themes? Looking for minimalist design done the right way? Need a unique multipurpose theme that is fully responsive, retina-ready and optimized for mobile devices; with beautiful minimalist design, impressive set of features and power to customize every aspect of its layout and appearance? And do all that in only a couple of clicks? Then search no further: Unicorn is created specially for you!
Unicorn is powerful multipurpose theme that will help you to build practically any site: from big corporate sites with catalog of products to studio sites with portfolio, photo albums and video gallery; business, technology, creative studio, photography… anything that you can imagine!
Full Details | Price: 45$
---